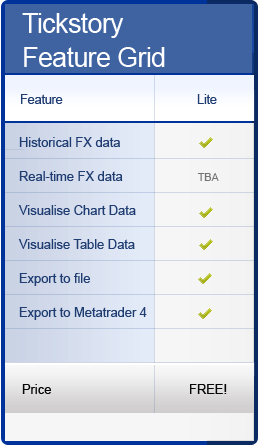 The current version of Tickstory Lite allows you to:
Download quality tick data for Forex pairs for free.
Export this data to file (in various formats like CSV) so you can import it into your own trading package.
Export your data to Metatrader 4, and produce quality 99% back-tests of your Expert Advisors!
Welcome!


It's time to blaze ahead in your trading endeavours by importing and exporting market data in a variety of formats.
What is Tickstory?
Tickstory is a trader's database that:
Downloads market data for instruments from various sources.
Stores this information in a local database for quick retrieval.
Outputs/exports this data to various trading platforms.
Stay tuned for new developments as we improve the features of the software based on your feedback!